Attention! Due to illness, the Ballroom Gig




on Saturday 06.11.2021 has unfortunately been canceled.





-


You've missed the Ballroom gig?
No problem, just check the new date!
-
No sleep till Ballroom!
Don't forget it!
Friday 01/18/2019 Marias Ballrom!


-



Hey, check out our YouTube channel
and subscribe to it if you are already there! ;)
https://www.youtube.com/channel/UCUYG9DwmVqjtyKAFYVT498Q

New gigs anounced!
-

We wish you a happy holiday season
and a peaceful new year!
-
See you at the Amun's Summer Party tonight!
-

Motorcycle Jamboree Jüterbog what a party!
Thanks to all who supported us!
-

New gig announced,
Jackbox live at the Barcarole in Stade
with Night Laser and Difficult Subuject"

-

Great news, Jackbox made it to
the next round of Emergenza!
Thanks to the team and all
who supported us so far!
See ya at the Knust in Hamburg!
-
New gig announced!
Jackbox participates at the emergenza,
we appreciate your support!
-
New gigs announced!
Jackbox will play at
Motorcycle Jamboree in Jüterbog!

-

Jackbox live 13/08/2016
at 30th Anniversary


Party Amun MC Heede

!
-

Download "Alien Invasion" now!
23 December 2015
Finally!
The song "Alien Invasion" is now available
on iTunes Store, Amazon and all the other
known online digital media stores. Enjoy!



-

Appen Musiziert
Sunday 20 September the non-profit event
Appen Musiziert will celebrate its 25th anniversary!
The goal of this unique charity event is to raise
€6.000.000 in support of seriously ill children!
This time there will be an additional rock stage
and we are proud to take part in it.


Update! Due to illness Jackbox can not participate.




But please go anyway, it's a great event!



-

And the winner is...
Sunday 09 August 2015
listen to Radio Henstedt-Ulzburg
to find out if you are the winner of the
Jackbox fan package.

Tune

in

at 6pm!




-

Jackbox at Radio Henstedt-Ulzburg
Hey folks,
on Sunday August 2nd we are on air with our
favorite Radio DJ Holger Moritz.
Please tune

in

at 6pm and listen to the interview.
If you don't speak German tune in anyway
and listen to the music. ;)


Enjoy our brand new
video!


-

Important Notice!
World premiere on Sunday 14 June 2015
on Radio Henstedt-Ulzburg!
You need to tune into Holger's show
starting at 6 pm if you don't
want to miss a big surprise!

-

Jackbox say thanks
for the great event yesterday!
The Rock Conzert in support of seriously ill children
is really a great event created by Wolle on Tour! It was a pleasure to be part of it!
-

New gigs anounced!
-


Live!

Jackbox and Sixfold Rejects!

27/12/2014

Annual closing concert at Taps!
-5th Avenue & Friends,
live at Knust Hamburg! 06.12.2014
Special guests
Maggers United

, Soon and

Jackbox


-

Ingo has fully recovered!
23 October 2014
Rehearsals were great,
new songs are in development
and new gigs have been anounced!

-
Good news!
17 September 2014Ingo is recovering from his illnes,
he feels much better now! :)

-

Get well soon Ingo!
Jackbox gigs at
Bikes Music & More Wewels-Rock-City


have been cancelled due to illness!!!


-

Wewels-Rock-City
Jackbox live on stage south
Friday 11 pm!

-

Flash News! Jackbox
are going to play at the
Amun MC Sommerparty
on 09 August 2014 in Heede!
-

12/07/2014

Goodbye W-R-C!


Wewels-Rock-City
opens its gates for the last time!
15 - 17 August 2014
Of course not without Jackbox!
-

Kieler Woche,
thanks to all of you,
it was great!
-

Don't forget!Rock ³805 / Jackbox / 5th Avenue
Friday
at Hafenfest Wedel!

-

08.03.2014New gig announced!
-

Don't forget!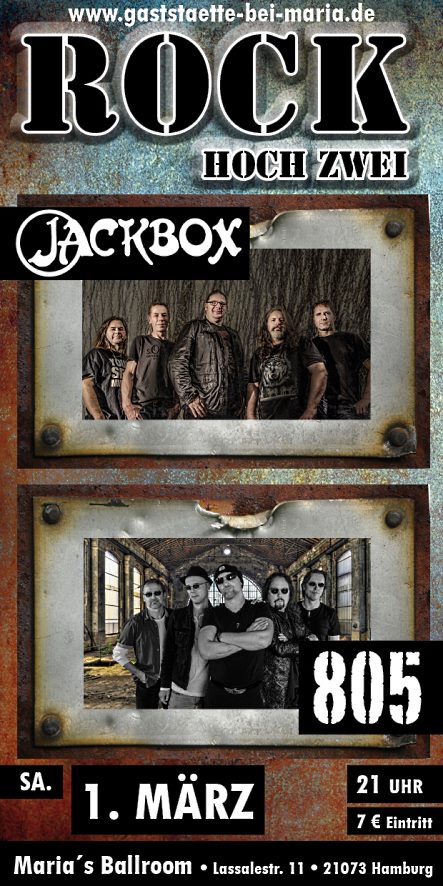 -

14 February 2014We wish you a happy Valentine's day!
Here's a love song for you.
Heartbeat
-

19 Januaray 2014
We hope you had a good start in 2014!
It is going to be an exiting year,
we have a lot of plans!
Read more about this soon.
-
Attention! Get your ticket!
Join Jackbox for the annual closing gig
and CD release Party on 28 Dec 2013
at the Taps in Uetersen!
This year's support is The Vang!
Tickets are now available at:
Stage Guitar, Lavorenz
and of course at the Taps!


Only a few days left!
Free download of our Soundtrack
TV A Rock Opera
ends on 15/12/2013!
-

29/11/2013
Jutta Weinhold Band

(Instead of Whiskey Hell)
&
Jackbox
LIVE at Ballroom Hamburg


-

What a great party
at the Rieckhof!
A Million thanks to the bands
and the fans!!!
-

We are looking foward to the Rieckhof gig!
Playing with our friends 5th Avenue!
-


A different kind of music video!10 July 2013
Here is a link to a video
of our guitarist's cat. Enjoy :)Video - Friends

-

24 June 2013
Two exciting gigs in one week!Thanks a million times to our fans
and especially to our new ones!
Also thanks to the Kieler Woche
and the Wedeler Hafenfest,
see you next year!
-

Don't forget!
Jackbox live
at the Kieler Woche
on 21/06/1013
MAX Bühne
-

Don't forget!
Jackbox live
at the Hafenfest in Wedel
on 14/06/1013
Kulturbühne
-

Attention! Major changes to the
Heimatkläng² Festival Schedule!
The Festival starts earlier!The doors will open now at 3 pm!
Afterwards we can all stay and enjoy the
Champions League Final on the big screen!
-


JACKBOX goes Hollywood!
27 February 2013By happy accident filmmaker Thomas Zeug
found us on the internet and asked us to write a song for the title sequence of his new animated movie Proll Out. And so we did!
It is called Alien Invasion and we hope you'll
enjoy it soon when you watch the movie at a
cinema near you.

-

JACKBOX LIVE
19 February 2013Please check out the Dates!

-
An outstanding party!
30 December 12
Wow, Taps almost sold out!
Only three more people and the place would have burst!Many thanks to
Never Dying Moment,
guys you rock!
And thanks to the audience you where really really great!
See you next year!
All the best!-


Do not forget!29 December 12
Jackbox
Special Guest: Never Dying MomentLive at Taps

-

02 December 2012
Big fun at ONE!
Thanks for your support!
-
Bulltownfestival was...
...again an outstanding party!
Many thanks to the audience and
all who took part in it and made it happen!!!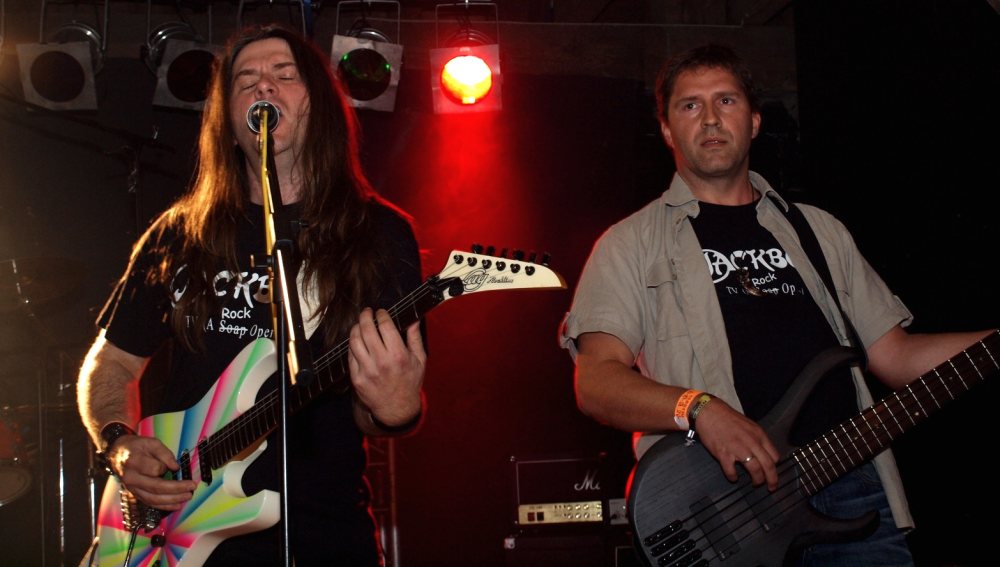 Photo by Barbara Preuß 29 September 2012
-

L.O.A photos online!
06 August 2012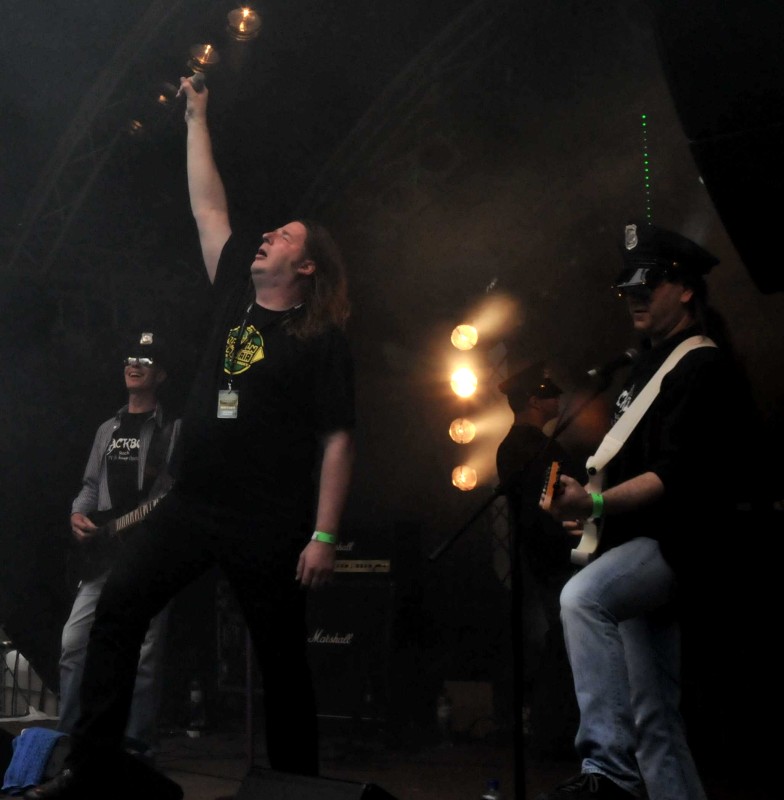 -

L.O.A was awesome!
25 July 2012
Langeln Open Air
was the best organized festival we have ever been to! A big Thank
to all who participated!
Special thanks to the engineers for the great sound and
the outstanding light show!
Photos will be revealed soon.

-

New Album Udate!
25 June 2012
the new Album has been
re-mixed and it sounds
even better now!
We highly recommend to
download it soon!

-

Jackbox on Facebook29 April 2012hello friends of Jackbox
feel free to visit us on
Facebookhttps://www.facebook.com/JACKBOX.BANDPAGE
or our management
https://www.facebook.com/Jackbox.Bandmuddi

-


Breaking News!




18 March 2012

TV (A Soap Rock Opera) The Soundtrack

New album out now!!!
All songs are ready to be downloaded

-

JACKBOX at Emergenza
16 March 2012

Thanks to all for the votes and support!
Good luck to all remaining bands!

-

JACKBOX LIVE
30 January 2012
Check the Dates
for further information!


-

New booking agency28 September 2011Jackbox will now
be represented byRockagentur Hamburg


-
Concert cancelled!
unfortunately the gig at
Haitabu on 24 September
has been cancelled!
Singer is suffering from a cold!-

Hello Australia!08 August 2011
We would like to greet the
rock fans of Australia because
we recognized that there is a great interest in our site! Especially for
our Kiss a bride video.
Thanks a lot to the land down under for your attention!
We really appreciate that!
-

New songs online!
06 July 2011 Just click discography
or click the cover.
Heimatkläng!
What a party!
27 June 2011
The Guys of BLA BLA Magazines
really know how to throw a party!
10 Bands, 500-600 Fans and
all of them had tons of fun!
Thanks for letting us take part in it.
-

Heimatkläng!
Today!

25. Juni 2011



-

The Bulltownfestival
...was excellent again!
Many thanks to Martin Frank
and to everybody who took part in it!

Sorry for all
who couldn't make it.
You have missed a great show!


-



New songs online!27. March 2011
Good news everyone! Two new songs found their
way from the studio right onto our new album.
To download them enter the discography
or simply hit the cover.

-

Update!
TV (A Soap Rock Opera) The Soundtrack
06th February 2011

Another song online!Enter the discography
or just hit the cover
to get it.

-

JACKBOX wishes you
A Merry Christmas
And A Happy New Year!

-
TV (A

Soap

Rock Opera) The Soundtrack
23rd November 2010
The Soundtrack of the musical

"

TV

(A

Soap

Rock Opera)"

is almost finished and you can already
download the first three songs for free!
(The rest will follow soon!)
Enter the discography for more information.